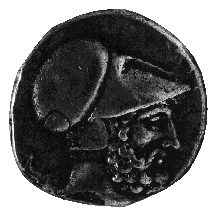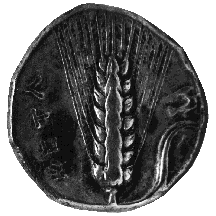 (3) Metapontion, Lucania (Italy) - AR stater, c. 350-330 B.C., 7.88 g. (inv. 91.007).
Obverse: Bearded head of Leukippos r., wearing Corinthian helmet; in l. field, seated dog.
Reverse: Ear of barley with leaf to r., bird with open wings on leaf,

below;

upward at l.: Metapontion abbreviated.
Provenance: Ex Fred V. Fowler collection; Stack's, 1969.
Bibliography: A. Johnston, The Coinage of Metapontum, Part 3 (American Numismatic Society, Numismatic Notes and Monographs 164, New York 1990).

Metapontion was an ancient colony on the Gulf of Taranto founded by Greeks from Achaea but re-colonized in the seventh century by Sybarites under the leadership of Leukippos. It was a wealthy city, known for its agricultural prosperity, but it was abandoned in the second Punic War in 207 B.C.

The obverse of this stater depicts the city's founder, Leukippos. Leukippos was a source of local pride; legend had it that he had won Metapontion through trickery from its neighbor and rival, Taras (Strabo, Geography 6, 265). These staters, issued in great numbers in the last third of the fourth century, are often connected with the campaigns of Alexander the Molossian, who was invited by Taras to help defend the local Greek cities against the Lucanians and other non-Greek peoples in the interior; the dog, barely visible here in the left field, may be a Molossian hound referring to Alexander. The reverse of the coin depicts an ear of barley, the agricultural product that was the source of the city's wealth (see no. 4).

C.L.L.

---
[LU Home] | [Bearers of Meaning] | [Contents] | [Catalogue] | [Essays] | [Glossary]
---



All contents copyright (c) 1996.
Lawrence University
All rights reserved.