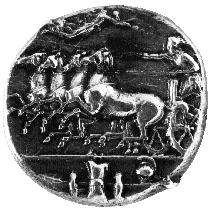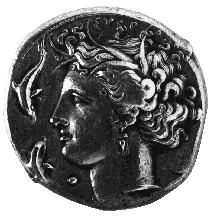 (19) Syracuse, Sicily (Italy) - AR dekadrachm, c. 400-370 B.C., 43.16 g. (inv. 91.032).
Obverse: Quadriga l., with Nike flying to crown female charioteer; cuirass, helmet, shield,
and greaves in exergue.
Reverse: Head of Arethusa l., crowned with reeds, surrounded by four dolphins; dot below chin;

: of the Syracusans.
Provenance: Stack's, 1969.
Bibliography: A. Gallatin, Syracusan Dekadrachms of the Euainetos Type (Cambridge 1930).

This coin is attributed to the artist Euainetos, who also signed dies for the mint at Katane and whose types were imitated by the mints of numerous other cities (see nos. 20, 21, 22). The dot on the reverse may mean that the die was the work of an assistant imitating the original by Euainetos.

Euainetos transformed the traditional victorious quadriga of the obverse of Syracusan coins by utilizing the techniques of foreshortening developed in the last quarter of the fifth century. The horses are no longer in profile, but in three-quarter view, as are the wheels of the quadriga. The heads of the horses turn in various directions, and the charioteer hunches over in racing form, a whip in her outstretched hand. The military equipment in the exergue, also a feature of the dekadrachms of Kimon (see no. 18), originally led numismatists to associate these coins with the Syracusan victory over the Athenians in 413 B.C., but the coins are now generally thought to date from the late fifth and early fourth centuries.

On the reverse, the Syracusan nymph Arethusa is depicted in the late fifth-century Rich Style, her face delicately modelled, with great attention devoted to minute details of her hair. Her wreath of reeds refers to her character as a fresh water nymph.

K.S.

---
[LU Home] | [Bearers of Meaning] | [Contents] | [Catalogue] | [Essays] | [Glossary]
---



All contents copyright (c) 1996.
Lawrence University
All rights reserved.