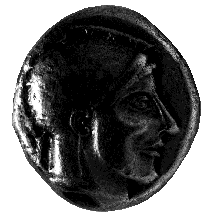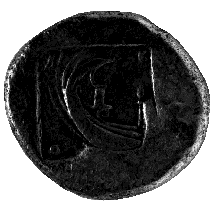 (24) Skione, Macedon (Greece) - AR tetradrachm, c. 500-480 B.C., 16.20 g. (inv.93.002).
Obverse: Helmeted head of Protesilaos r.; on crest-holder,

retrograde: Protesilaos.
Reverse: In incuse square, stern of ship;
in corners: Skione abbreviated.
Provenance: Harlan Berk, 1993.
Bibliography: C.M. Kraay, Archaic and Classical Greek Coins (Berkeley and Los Angeles 1976) 134.

Skione was the chief town of Pallene, one of the three promontories of the Macedonian peninsula of Chalkidike. Like the other cities in the area, it was probably settled by Euboians, but its inhabitants believed that it was founded by one of the heroes of the Trojan War. The city is chiefly remembered for its resistance to Athens during the Peloponnesian War, after which the Athenians put the inhabitants to death.

On the obverse is the head of Protesilaos, according to tradition the heroic founder of the city. He wears an Attic helmet with his name, only partly legible on this coin, inscribed backward on its crest-holder. The stern of a ship on the reverse probably also refers to the hero. He was the leader of warriors from several Thessalian towns who fought in the Trojan War. According to one tradition, he knew that the first man ashore would be killed and heroically became the first man to leap off his ship. He is best known for the stories about his wife's love and mourning for him.

C.L.L.

---
[LU Home] | [Bearers of Meaning] | [Contents] | [Catalogue] | [Essays] | [Glossary]
---



All contents copyright (c) 1996.
Lawrence University
All rights reserved.