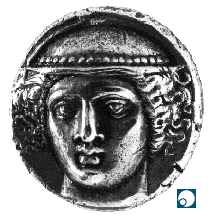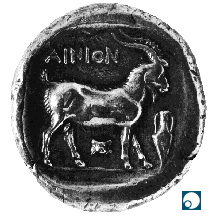 (27) Ainos, Thrace (Turkey) - AR tetradrachm, c. 380 B.C., 15.87 g. (inv. 91.045).
Obverse: Facing head of Hermes wearing petasos.
Reverse: In incuse, goat r.; astragalos below; amphora in r. field;

: of the Ainians.
Provenance: Bank Leu, 1982.
Bibliography: J.M.F. May, Ainos, its history and coinage (Oxford 1950).


In the first half of the fourth century B.C., the coins of Ainos retain the types established in the fifth century, the head of Hermes on the obverse and his symbol the goat on the reverse, but the head of Hermes is now almost facing rather than profile (see no. 26). The immediate inspiration for the change was probably the near-facing head of Apollo on the coins of Amphipolis (see no. 25), a type introduced in the late fifth century, but the Amphipolitan type must have been inspired by the famous facing Arethusa of Kimon (see no. 17), which shortly before appeared on the coins of Syracuse and which influenced die-cutters all over the Greek world (see nos. 5, 9, 25, 28, 34, 36, 38).

Some changes were introduced to the reverses as well. The reverse as a whole is still incuse, but no longer framed by the square of the earlier coins. The goat is now accompanied by the complete name of the town and by multiple symbols in the field, which signal a change of issue. The symbols in this case are a pointed amphora or two-handled pot and an astragalos, a rectangular knucklebone often used as a die or gaming piece.

P.A.M.

---
[LU Home] | [Bearers of Meaning] | [Contents] | [Catalogue] | [Essays] | [Glossary]
---



All contents copyright (c) 1996.
Lawrence University
All rights reserved.