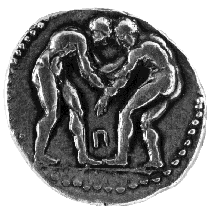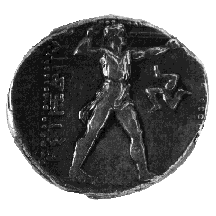 (37) Aspendos, Pamphylia (Turkey) - AR stater, 4th c. B.C., 10.85 g. (inv. 91.087).
Obverse: In circle of dots, two wrestlers engaged;

between them.
Reverse: In dotted incuse square, slinger wearing short chiton discharging r.; triskeles in r. field;

: of Aspendos in local dialect and Greek script.
Provenance: Coin Galleries, 1971.
Bibliography: C.M. Kraay, Archaic and Classical Greek Coins (Berkeley and Los Angeles (1976); N. Olçay and O. Mørkholm, "The Coin Hoard from Podalia," Numismatic Chronicle, 1971, pp. 18-29.


Aspendos was a Greek colony and strategic port and naval base in Persian territory, on the river Eurymedon in Pamphylia. There were no coins issued in the area until c. 460 B.C., after which Aspendos struck large numbers of coins on the Persian weight standard, widely used in western Asia Minor.

Beginning about 400 B.C. Aspendos issued a new series of staters, which were struck to the end of the fourth century. These depict wrestlers on the obverse and a slinger on the reverse. The types are unusual for their detailed depiction of full-length bodies in active athletic poses. It has been suggested that the slinger was chosen for the similarity of the Greek word for sling, sphendone, to the name of the town. In the right field of the reverse is the city's badge, the triskeles, three human legs connected in a wheel-like formation, which had occupied a more prominent position on the obverse of earlier Aspendian coins.

R.H.L.

---
[LU Home] | [Bearers of Meaning] | [Contents] | [Catalogue] | [Essays] | [Glossary]
---



All contents copyright (c) 1996.
Lawrence University
All rights reserved.