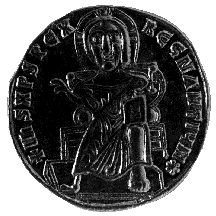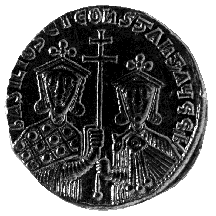 (143) Basil I and Constantine - AV solidus, A.D. 867-879, 4.34 g. (inv. 91.286).
Obverse: Christ with cross-nimbus behind head, seated on lyre-backed throne, r. raised in blessing, l. holding book; IhS(VS) XP(ISTO)S REX REGNANTIVM: Jesus Christ, King of those who rule.
Reverse: Facing busts of Basil l., wearing loros and crown with cross, and Constantine r., wearing chlamys and crown with cross, both holding patriarchal cross between them; BASILIOS ET CONSTANT(INVS) AVGG (AVGVSTI abbreviated) b(ASILEIS): Basil and Constantine, Augusti, kings.
Provenance: Edward Gans, 1959.
Bibliography: W. Wroth, Catalogue of the Imperial Byzantine Coins in the British Museum (London 1908) 436.2; P. Grierson, Byzantine Coins (London 1982).


Basil I, a peasant fortune hunter from Macedonia who rose from the position of groom in the imperial stables to co-emperor under the patronage of Michael III, murdered his mentor in A.D. 867 and founded the Macedonian dynasty. Basil was an effective ruler; his armies were successful against the Arabs, his diplomacy kept the Bulgars at bay, and late in his lifetime he began a revision of the great legal text, the Codex Justinianus.

Iconoclasm, the offical condemnation of the veneration of icons, was reversed in A.D. 843 and soon afterward Michael III re-introduced the bust of Christ on his coins. Basil also introduced a new type, Christ enthroned, one of the few images on Byzantine coins that can probably be traced to a work of art in another medium, the mosaic over the imperial doorway of the Church of Hagia Sophia in Constantinople. The type endured for nearly a century, and from this point onward Christ, the Virgin, or a saint would become standard types for the obverses of Byzantine coins.

In order to secure his dynasty, Basil made his sons co-emperors. The reverse depicts Basil and his eldest and favorite son, Constantine, according to the usual conventions of imperial portraits, with Basil identified as the senior ruler by his scale, position on the left, and the more ornate garment, the loros. Constantine died prematurely in A.D. 879 and Basil fell into a deep depression and died in a hunting accident in A.D. 886.

E.N.J.


---
[LU Home] | [Bearers of Meaning] | [Contents] | [Catalogue] | [Essays] | [Glossary]
---



All contents copyright (c) 1996.
Lawrence University
All rights reserved.