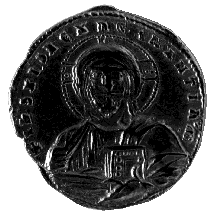 (147) John I Tzimisces - AV tetarteron, A.D. 969-976, 4.06 g. (inv. 91.290).
Obverse: Facing bust of Christ with cross-nimbus, with r. raised in blessing, l. holding book;
IhS(VS) X(P)I(STO)S REX REGNANTIVM: Jesus Christ, King of those who rule.
Reverse: Facing busts of John on l., wearing loros and crown with cross and holding patriarchal cross in l., and haloed Virgin on r., crowning John with r.; Manus Dei above John's head,

above head of Virgin;

(

)

(

)



: Mother of God, help the emperor John.
Provenance: Coin Galleries, 1959.
Bibliography: P. Grierson, Byzantine Coins (London 1982).


The brilliant general John Tzimisces gained the throne by murdering his predecessor, Nicephorus, with the help of Nicephorus' wife, who had become John's mistress and whom he was forced by the Church to send into exile as penance before he could be crowned. He was, however, a great emperor who in his short reign of only six years brought Bulgaria under Byzantine control, made peace with the western empire, and enlarged upon earlier Byzantine conquests in the Near East.

The obverse of John's coins depicts the Christ Pantokrator of his predecessors' coins (see nos. 145, 146), but the reverse introduces a new type. Nicephorus had first depicted himself with the Virgin on his reverses, but on John's coins she actively crowns the emperor. According to the conventions of Byzantine coinage, the Virgin should occupy the most important position on the left, as she does on Nicephorus' coins, but since she must crown the emperor with her right hand, on John's coins she has been moved to the right. Above John's head is the Manus Dei, the hand of God, which indicates that John's imperial authority is derived from God.

This coin is a "tetarteron" or "quarter," a coin of lower weight than the solidus, which was introduced during the reign of Nicephorus (see no. 146).

E.N.J.

---
[LU Home] | [Bearers of Meaning] | [Contents] | [Catalogue] | [Essays] | [Glossary]
---


All contents copyright (c) 1996.
Lawrence University
All rights reserved.