WELCOME TO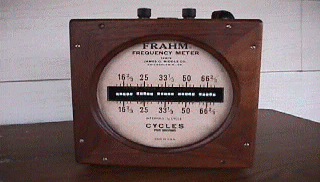 The Website of LeRoy Frahm
---
Where I am most often found:
Lawrence University, Youngchild Hall Of Science
P.O. Box 599, Appleton, WI 54912-0599
Voice: 920/832-6722, Fax: 920/832-6962
Email: LeRoy.Frahm@lawrence.edu
"Today's Problems come from Yesterday's Solutions"
--a law of The Fifth Dicipline, Peter Senge, 1990
Lawrence Interests - Celebrating 25 Years!
Faculty Research Support - "Miracles I do right away, the impossible takes a little longer!"
Laboratory Support - "Go ask LeRoy!"
Answers to anything electronic, mechanical, and everything in between
"Every step requires that we stay comfortable with uncertainty, and confident of confusion's role."
--Epilogue of Leadership and the New Science, Wheatley, 1992
Family Interests

Other Interests
First Sergeant, 440th Maintenance Squadron, GMIAP, Milwaukee, WI; Air Force Reserve




Vietnam Gunships - "So you painted 'Charlie Chasers' on the gunships, Dad?"




Bonsai, instruction and hobby

Current Projects
Leadership Development Facilatator
Teambuilding Facilatator
TQM Instructor - Xerox Model

Presentations
Exploring Role Expectations - Washington DC, San Antonio
Simple Art of Teambuilding - San Antonio
Non-Verbal Communication for the... - Atlanta
Advanced Facilatation - Sacramento, St. Louis, Niagra Falls, Atlanta

LeRoy's Cautions
Rewarding negative behaviors
Beware of compensating feedback
Nothing is obvious until it is spoken
Form is more important than content
Recycling the same solution, expecting a different result

Reading Interests
Leadership, Process Improvement, Teambuilding and Bonsai
Seven Habits, The Art of War, Dilbert Principle

Vision: "To Provide a Level of Service beyond Simple Satisfaction"
"Seek First to Understand, Then to be Understood"
5th Habit, The Seven Habits of Highly Effective People, Covey, 1989
Favorite Website: EllerPages - Amargosa Observatory and the Complete Coleman Francis Pages

Resources

Web Authoring Resources
A Beginner's Guide to HTML - Everything You Ever Wanted to Know about HTML
---
Web Search Engines
If you can't find what you want here, why not try searching...



OR

OR

---

Revised: 30 December1999
LeRoy.Frahm@lawrence.edu