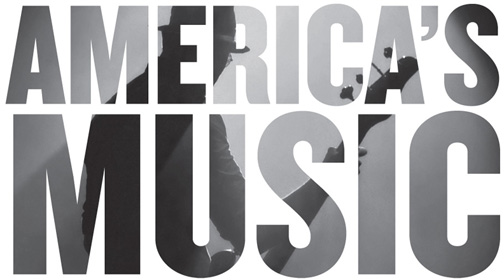 America's Music:
A Film History of Our Popular Music From Blues to Bluegrass to Broadway
---

Broadway and Tin Pan Alley
Thursday, March 7, 2013, 6:30 p.m., Warch Campus Center Cinema
Before you go: read an introduction to Broadway and Tin Pan Alley
Read/Listen to/View more about Broadway and Tin Pan Alley
Syncopated City (1919-1933) is the second episode of the award-winning six part series on the history of Broadway, Broadway: The American Musical. It focuses on the 1920s, Broadway's most prolific era. Narrated by Julie Andrews, it features on-camera commentary by historians as well as performers, writers and critics including Stephen Sondheim, Andre de Shields and John Lahr.
Broadway during the Jazz Age showcased the sweeping changes transforming American culture: new roles for women; the mixing of social classes in Prohibition-era speakeasies; new creative opportunities for African Americans in jazz clubs and music halls. Many of the new word and music smiths writing for Tin Pan Alley and Broadway's musical revues were immigrants from Eastern Europe. Their syncopated rhythms borrowed from jazz; their lyrics reflected a vibrant new American argot; their songs became big business. America's exuberant culture of optimism was reflected in the plucky heroines of Broadway shows, and Eubie Blake and Nigel Sissel's successful all black revue broke the Broadway color barrier. But the success of the "talkies," which lured musical talent to Hollywood and the collapse of Wall Street in 1929 brought Broadway to its knees and the Jazz Age to a crashing halt.
The film is divided into eight titled sections: Intro: Prohibition, the birth of the jazz scene, the pace of social change, the changing role of women. Look for the Silver Lining: Broadway's female heroines, Marilyn Miller, musical comedy revues. With a Dixie Melody: Al Jolson, blackface and the tradition of minstrelsy. Shuffle Along: Eubie Blake and Noble Sissle and the first musical by black artists on Broadway. Fascinating Rhythm: George and Ira Gershwin, Tin Pan Alley, the birth of a new urban music. The Big Apple: a new American slang, Walter Winchell, Rogers and Hart. Good News: 1927 Broadway at peak of production, impact of radio and records, Showboat premieres. You Ain't Heard Nothin' Yet: The talkies, Wall Street crash, the move to Hollywood.
This program, the last in the series of six, is a prelude to the appearance of Audra McDonald on the Lawrence University Artists Series, Sunday, March 10, 2013.
---
"America's Music" is a project by the Tribeca Film Institute in collaboration with the American Library Association, Tribeca Flashpoint, and the Society for American Music. "America's Music" has been made possible by a major grant from the National Endowment for the Humanities: Exploring the Human Endeavor.