Stipend
NEH Summer Scholars participating in five-week seminars receive a stipend of $3,900, which, depending on the state of the dollar, the price of airfare next summer, and your personal spending habits, should go a long way towards covering your expenses. Here's the NEH's official language about this aspect of the stipend: "Stipends are intended to help cover travel expenses to and from the project location, books and other research expenses, and ordinary living expenses. Stipends are taxable. Applicants to all projects, especially those held abroad, should note that supplements will not be given in cases where the stipend is insufficient to cover all expenses."
Since we have to make the rental payment for the seminar's housing in April, an equivalent amount will be deducted from your stipend. You will receive a check for the remainder before the seminar begins; once selected, you will be required to give your consent to this deduction in writing.
NEH also has a caveat about what you may and may not do during the seminar:
"Seminar and institute participants are required to attend all meetings and to engage fully as professionals in the work of the project. During the project's tenure, they may not undertake teaching assignments or any other professional activities unrelated to their participation in the project. Participants who, for any reason, do not complete the full tenure of the project must refund a pro-rata portion of the stipend."
For further information about the terms of the seminar, please see NEH application Information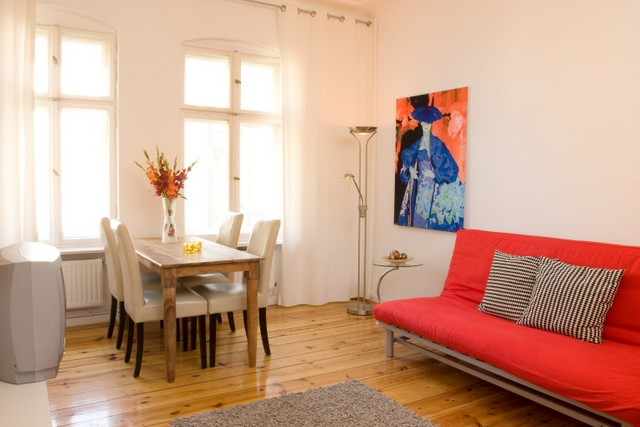 Housing
We will all be housed in modernized apartments in Prenzlauer Berg, a neighborhood in what was East Berlin that is now filled both with young professionals and migrants from around the world. The apartments, which include fully equipped kitchens, TVs and high speed internet connections cost approximately €60.00 a night for efficiency apartments and €70.00 for two-room apartments (Germans don't count the kitchen or bathroom), which can be shared. Previous NEH Summer Scholars wanted to make sure that we told you that each room has a door, so privacy is not a concern. As one of them put it in an evaluation, "I believe many more participants would have shared an apartment had we known that there was in essence two private spaces in a two room apartment." People rated the apartments between very good and excellent, and the prices, even for an efficiency, are extremely reasonable for the chance to spend time living and learning in one of the world's most interesting cities, especially compared to what it would cost in London, Paris, Rome or Washington, D.C. You can have a look at the apartments at http://www.tc-apartments-berlin.de Check out the Einzimmer- und Zweizimmer Wohnungen, Prezlauer Berg, Rhinower and Kopenhagener Strasse. You will notice higher prices because we have negotiated a 25% reduction from the posted rates. There is a one-time extra charge of €25 for a final cleaning, but no charge for the internet, a weekly cleaning, and change of linens. Prenzlauer Berg abounds with surprisingly inexpensive restaurants and cafes; bakeries, grocery stores and other shopping opportunities (Schönhauser Arkaden) are within easy walking distance. The S-Bahn, U-Bahn, bus and tramlines are all within a very few blocks of the accommodations; a Monatskarte costs €72.
Most people these days would feel lost without a laptop or notebook, and we certainly think you should bring one to Berlin. The apartments come with an Ethernet connection, which is sometimes a bit cumbersome for two people. Bob and Brent pack an Airport Express, which immediately gives them a Wi-fi hub. You can also buy the device of your choice at the electronics store in the Schönhauser Arkaden. Check out the FAQs for our advice about cellphones.