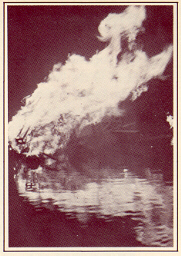 1940s "Go, Lawrence, Go"
Lawrence students send a burning raft
down the Fox River at Homecoming
while they sing "Go, Lawrence, Go,"
written by renowned band leader Fred
Waring. The gala weekend includes
house/dorm decorations, a parade, a
football game, coronation of a queen,
and a dance. The tradition continues
until the mid-1950s.